DATAmaestro
Collect & Store

DATAmaestro
Collectors

Direct connection and live data streaming from a range of data sources including Historians (IP21, PI, Wonderware, eDNA,…), LIMS, MES, ERP, RDBMS, IoT sensors, PLC, DCS, connectivity platforms.

DATAmaestro
Lake

DATAmaestro Lake acts as a high-performing centralized historian for ETL.

Store and merge data from multiple data sources via DATAmaestro Collectors or direct upload. Visualize and explore data, trends, statistics. Easily prepare and sample data for Advanced Analytics.

Analyze & Predict

DATAmaestro
Analytics

DATAmaestro Analytics offers to industries a comprehensive environment for machine learning. Clean, visualize and explore data using histograms, scatter plots, trends, box plots, clustering and more.

Transform data to compute comprehensive KPIs. Then model and diagnose plant performance using machine learning algorithms tailored for industry including Decision Trees, Random Forests, Artificial Neural Networks, Clustering,... DATAmaestro Analytics also includes highly-specialized AI methods for asset health monitoring and plant optimization.

Monitor & Optimize

DATAmaestro
Dashboards

Dashboarding widgets provide easy-to-interpret visualization tools for real-time monitoring of process performance and asset health.

Thanks to the combined DATAmaestro layered web services, calculate real-time analytics and AI models to monitor, detect and correct performance drifts. DATAmaestro Dashboards offer continuous decision support and recommendation tools to help optimize performance. Dashboards can be easily designed depending on end-user requirements to offer real-time decision support for operators, daily reports for engineers, monthly reports for management and more.
DATAmaestro Infrastructure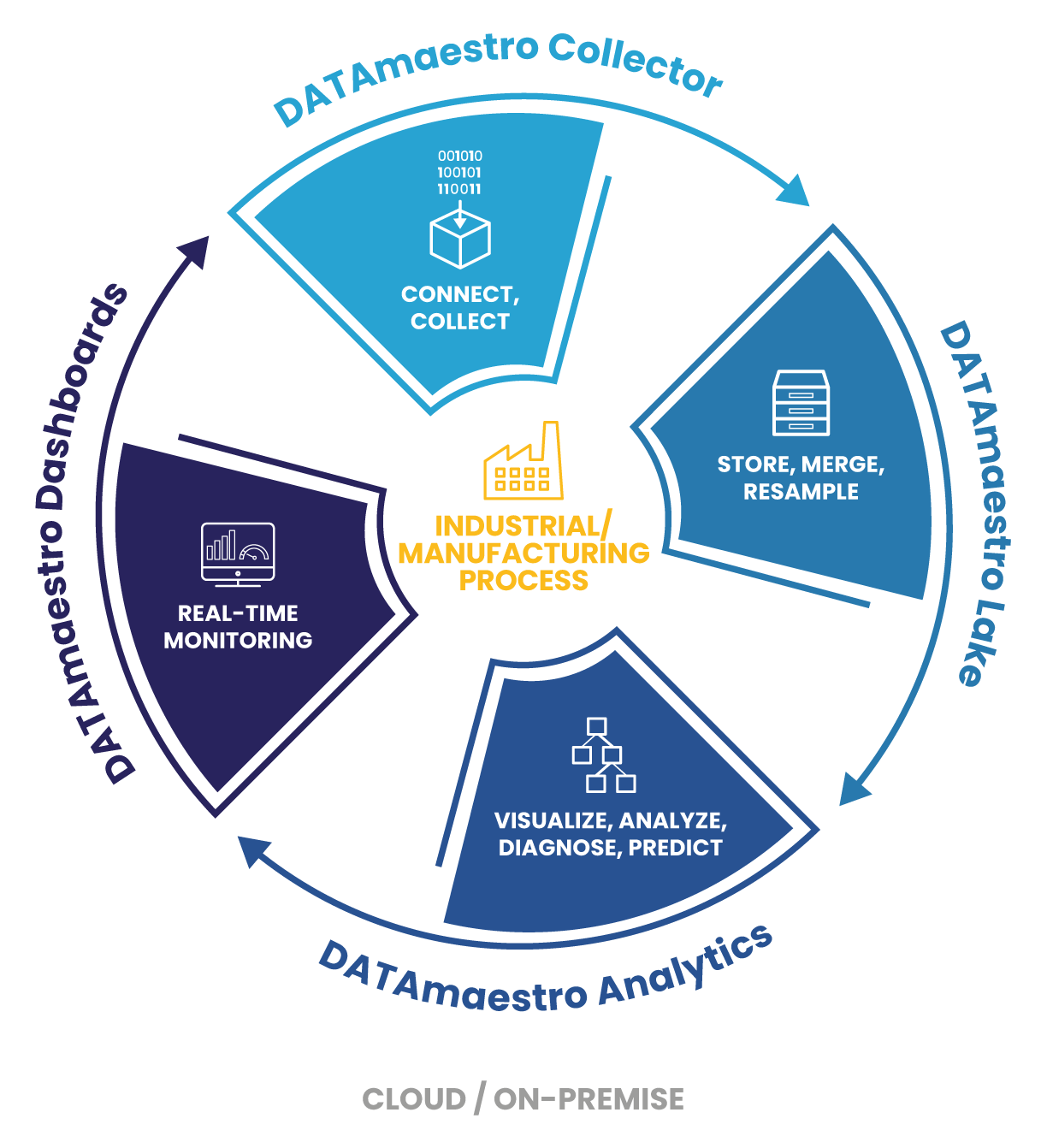 Layered web services for efficient deployment and integration
DM Collectors painless connectivity with existing data sources.
DM Lake high-performance data storage for high-speed ETL and data preparation.
DM Analytics data exploration and machine learning algorithms tailored to industry.
DM Dashboards widgets to monitor real-time data, outputs of analytics and AI models.
Flexible deployment infrastructure
On cloud DATAmaestro can be provisioned with various suppliers such as AWS, Azure, Hetzner, etc.
On-premise If required, DATAmaestro can be installed on an appliance supplied and managed by the client, or on a DM Pack, a small Advanced Analytics appliance to host DATAmaestro supplied and managed by PEPITe.
Create value from Data Benefits
Easy-to-use collaborative web-based analytics platform
Enables self-service cloud analytics, no coding required
Extensive set of machine learning algorithms fitting industry
Interfaces collecting existing data (Historians, PLC, DCS, SCADA, IoT)
Data streaming automatically updates analytics workflow
Feature engineering with thermophysical properties library
Web API allows easy integration with other applications
Instantaneous deployments of models in web based dashboards
Available on cloud or on-premise